Commercial Cleaning Health and Safety Standards
01 November 2017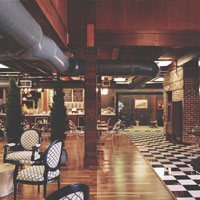 All reputable, professional commercial cleaning companies across Australia today offer top quality, comprehensive cleaning services to many varied areas of industry that meet high standards for health and safety. All cleaning and maintenance staff members are well trained and have OH&S certification. All cleaning equipment and supplies are safe, effective and environmentally safe for use in buildings where staff members work regularly. In addition, all equipment used to thoroughly clean and maintain office buildings, factories, community buildings, supermarkets, health clubs or schools is frequently inspected and kept in optimal and safe working condition. Green cleaning agents are used, and all equipment and products are locked securely in utility closets and storage areas in schools and recreation facilities for children.
Specific Health and Safety Standards and Procedures of Responsible Commercial Cleaning Services

Any responsible, professional commercial cleaning company will uphold the following health and safety standards for performing all of their cleaning and maintenance procedures in office buildings and industrial facilities:
• Superior Quality Management. – The best commercial cleaning companies operate with excellent quality management plans in order to provide expert onsite body corporate cleaning and maintenance services for their clients. These management systems are compliant with the ISO 9001:2008 standard and clearly outline guidelines for excellence in all services provided. These standards are frequently updated to meet all current government and industry requirements.
• Excellent Staff Training. – Every staff member is well-trained, and worker performance is monitored during all cleaning projects to ensure finest quality procedures and results. If any weaknesses in an employee's working habits are detected, additional training is given to strengthen working performance and top-rated task completion. Each member of the commercial cleaning crew is OH&S certified and carefully instructed in the use of all equipment and cleansing agents. Managers and supervisors are thoroughly trained in all aspects of employee supervision and operations management to satisfy the needs of facilities cleaning in many diverse types of business and commerce.
• Safe, Effective Equipment and Supplies. – Top-rated cleaning services use cleaning equipment and cleansing agents with high levels of safety and effectiveness for cleaning commercial buildings today. Each cleaning crew member is fully informed about and experienced at using all machinery and hand-held electric devices during work procedures. The best cleaning services also use eco-friendly cleaning techniques and green cleaning products to complete each job safely and efficiently, to meet the client's complete satisfaction.
When you engage the expert commercial services of Ausbright Facilities Management, providing top-rated quality cleaning and maintenance for companies in Melbourne and surrounding regions, your office building or industrial complex will always be expertly maintained, meeting finest standards for cleanliness and safe operations. Contact this excellent team today for all your commercial cleaning needs.
Optimized by: Netwizard SEO