Complete Washroom Hygiene and Cleaning Services in Melbourne
14 September 2016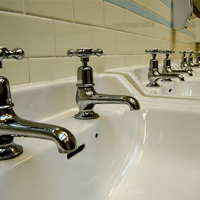 No matter where washrooms are found, these areas need to be maintained daily to ensure that the highest level of hygienic standards are met. This is especially true for washrooms that are highly used in places like shopping malls, commercial buildings, schools, fitness centres, construction sites, hospitals, and medical institutions, just to name a few.
The bustling city of Melbourne has plenty of such business establishments. So, finding a quality company that offers the best hygiene and cleaning services in Melbourne, is absolutely necessary.
Complete Washroom Cleaning Services in Melbourne
Keeping washrooms clean is a constant, daily chore that includes making sure that necessary hygiene products are always stocked. These include, refilling paper products, soap dispensers and sanitisers – the first level of defense against germs. When these are stocked and refilled daily, people tend to trust that the washrooms are clean.
A scheduled, complete and thorough cleaning on a regular basis is the only thing that guarantees the highest levels of hygiene, which is absolutely paramount in hospitals and medical facility washroom areas. What is involved in a complete washroom cleaning services, to guarantee the highest level of hygiene? That is an important question to ask, and Ausbright Facilities Management has the answer.
Here at Ausbright, we are a facilities management and body corporate cleaning service, and we take much pride in our proactive washroom hygiene solutions, as these ensure our clients that their washrooms will consistently meet the highest standards of hygiene possible. Our secret to success, in this regard, is accredited to the following.
Maintaining Consumables – Our highly trained cleaning staff maintains soap dispensers, air fresheners, toilet paper, hand towels and sanitary disposal services for female restrooms.
Urinal Sanitizing Service – When urinals and toilets are flushed, any urine remaining leaves bacteria, and it can not only spread to contaminate other areas, but causes bad bathroom odours. By regularly cleaning urinals, toilets, walls and flooring, throughout the day for high traffic washrooms, Ausbright cleaners keeps your washroom areas as hygienic as possible, every day, all the time.
Whether your washroom areas need scheduled deep cleaning, or a regular preventive maintenance service, Ausbright can custom design a program to fit your budget and that meets your washroom's needs. Contact us today, to learn more about our hygiene and cleaning services.
Optimized by: Netwizard SEO