Hiring a Professional Cleaning Company with Compliance Certificates: A Clever Idea to Protect Your Business Reputation
27 October 2016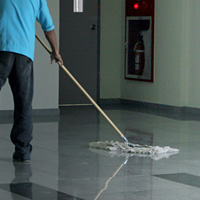 When hiring a professional cleaning company, you place the reputation of your business in its hands since you rely on it to provide your company with a clean, sanitary environment along with an attractive appearance. For this reason, you should seek out one that holds compliance certificates, such as our company of Ausbright Facilities Management. Through this action, you not only will protect the reputation of your business, but also you will ensure that you receive high-quality results.
How Compliance Certificates Help Us Conduct Our Business
We conduct our business under the guidance of our three certificates, namely:
1. Quality ISO 9001- Under this certification, we strive to provide top quality services to meet your needs and specifications. We designed and implemented our Quality Management System for this purpose in compliance with the ISO 9001:2008 Standard. This system provides us with strict guidelines to follow for operating all the areas of our company.
2. Environment ISO 14001 – By earning this certification, we understand how to utilise the best products and techniques to bring services to our clients with the least impact possible on the environment. Part of earning this certificate is to set up an effective Environmental Management System, such as the one we follow in compliance with the ISO 14001:2015. Our products and services in this area include microfibre reusable cleaning cloths, biodegradable products, water recycling products and waste management consulting.
3. Health and Safety ISO 4801 – A certificate in this category helps us understand how to ensure that our work environment is healthy and safe for our staff and clients along with any contractors who are associated with our services. To govern our actions in this area of our company, we have established a Safety Management System that is in compliance with the AS/NZS 4801:2001 Standard.

Clients Reap the Benefits of Our Certifications
Clients are the ones who reap the true benefits from our compliance certificates. The information and techniques that we learn about through earning each one of these certificates increases our ability to provide the highest possible services to all our clients, regardless of their needs.
For in-depth details about the benefits of compliance certificates and all of our services and products, consult with Ausbright Facilities Management. We provide a wide assortment of facility management services for all types of commercial settings from offices to medical institutions. Our company services the Melbourne and surrounding areas here in Australia and provides a guarantee of satisfaction.
Optimized by: Netwizard SEO