Hiring Professional Cleaners Can Help Benefit Your Food and Catering Business
21 February 2017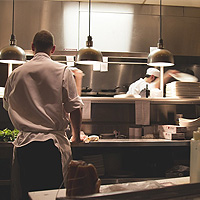 A lot of hard work goes into running a food and catering business, especially when it comes to keeping the kitchen area clean and sanitised to meet health code requirements. It's true, any properly trained chef knows how to clean 'their' kitchen and areas used to prepare food, however, they don't have the time to deeply clean the flooring, food storage spaces, and hard to reach areas behind ovens, ranges and hoods.
In fact, there are areas of commercial kitchens that require specialised cleaning materials and equipment, and experienced cleaners can keep these clean, such as grease traps, to meet health inspection requirements. So, if you are too busy running your food and catering business to clean the entire kitchen 'yourself', then hiring professional kitchen cleaners just makes sense.
Hiring Professional Cleaners for Your Food and Catering Business Has Benefits

After preparing and cooking food for others, cleaning up after a long day or week is definitely nothing to look forward too, especially when pressured to meet regularly scheduled health inspections. But, by hiring professional kitchen cleaners you can rest assured that your kitchen and all food preparation areas and equipment are cleaned daily, so you don't have too.
Surprisingly, many food and catering businesses hesitate to hire professional cleaners to conduct thorough cleaning of their commercial grade kitchens, thinking that money can be saved by assigning cooks and chefs to do 'it' – thoroughly clean to meet health safety inspections. Honestly, working in busy commercial kitchens is demanding and stressful, and chefs and cooks truly have their hands full of responsibilities, ordering food stocks, maintaining food inventories, preparing and cooking meals, and managing kitchen staff to meet customers' demands.
Considering this truth, it just makes sense to hire professional kitchen cleaners to allow chef, cooks, and kitchen staff to focus on their job of producing delicious meals, instead of mopping floors, cleaning grease traps, sanitising counter spaces, and cleaning behind ovens and ranges. And, professional cleaners can clean better than kitchen staff because they have the training, equipment, and knowledge of cleaning materials to do a better job.
Basically, the success of any food and catering business depends on the abilities of chefs, cooks, and kitchen staff to do their specialised jobs, not to clean. That is the main benefit of hiring professional cleaners – to allow your kitchen staff to focus on growing your food and catering business, rather than regularly cleaning flooring and equipment.
Optimized by: Netwizard SEO