Setting the Right Standards When Hiring Cleaning Companies
05 December 2016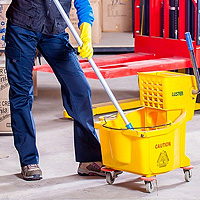 Managers and administrators of commercial buildings and facilities are responsible for making sure that work spaces and areas are clean and sanitary for employees, clients, and visitors. Not only is it important for the health of everyone, but clean workspaces and areas also promote efficiency and inspire pride among staff. A well-kept building, inside and out, also leaves a positive impression on clients, customers and visitors, while an unsanitary and dirty facility has the opposite effect.
Basically, commercial buildings and facilities that are not maintained by professional cleaners may appear clean, but are far from sanitary, and in this condition employees can become unproductive, sick, and miss work. Because of this, commercial entities need to define standards when hiring cleaning companies, to make sure that only the best commercial cleaners are hired.
Here are some basic standards to help as a guide in hiring competent commercial cleaners:
Specialised cleaners – there are many residential and commercial cleaning companies, although a cleaning company will readily agree to contract a commercial client, are they qualified? Professional commercial cleaners are specially trained in proper sanitisation techniques, professional business etiquette, the use of chemical cleaning agents, and the handling and disposing of commercial garbage. Most residential cleaners are not, and the results are obvious in support of that fact.
Supportive references – While commercial cleaners may have the training, they may not have the experience or provide quality services that your company needs. Asking for references of current commercial clients that are supportive of the cleaning company's services is definitely a standard you should set for hiring commercial cleaners. Because supportive references will prove the company can perform as claimed.
Assorted services – keeping clean corporate buildings and facilities such as schools, hospitals, and gymnasiums is important, but it takes many types of services to accomplish that. Window cleaning, bathroom cleaning, carpet cleaning, graffiti removal, car park cleaning, pest control, landscaping, and handyman services are all important in maintaining commercial properties.
If you have set high standards for hiring cleaning companies, then your facilities requires the best full-service commercial cleaning company – Ausbright Facilities Management.
As a full-service cleaning company, we take pride in our professionally trained commercial cleaners, and the latest equipment they use to meet the highest possible standards set by corporations and public entities. Details of cleaning services, rates, and supportive references are available upon request.
Optimized by: Netwizard SEO