Why Should You Choose an ISO Certified Commercial Cleaning Services Provider?
28 November 2016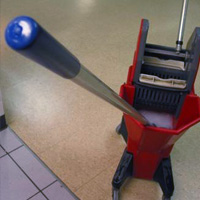 When hiring a cleaning service, there are many variables that should be considered before deciding on the ideal company. However, one of the most important features to look for is an ISO certified commercial cleaning services provider. In fact, a company that meets the requirements for the standards of ISO certification is basically the best qualification you can find.
ISO Certification
In order for a business to get ISO certified, there are numerous tests and standards a company has to go through. Just the basic ISO standards are quite rigorous. Just the certificate for health and safety has more than 1300 standards for improving safe, dependable and of top quality. These products and services are a large assortment like traditional medicines, medical devices, dentistry and health studies.
One of ISO's main objectives is to ensure that services and products are high quality, safe and reliable. Fora business, there are strategic tools utilized so that costs are lowered. This is done by expanding productivity and reducing waste. As well, the ISO assists businesses with finding new markets that are sustainable and are global fair trade.

Other ISO Certificate Features for Certified Commercial Cleaning Businesses include:
• Certification is a prerequisite for Contract Placement.
• The General Assessment may be taken as many times as needed.
• Non-certified companies are never on the Contract Placement List.
• Certified individuals are exempt from participating in the Contract Placement Program.
• NACBC offers Executive Certified partakers the chance to take advantage of numerous program benefits, professional services and contract placement.
• NACBC supports small business owners to potential clients founded on their certification rank and ability to undertake Professional "Class A" Cleaning Services.
• Once completed, a certified Letter of Reference, a General Assessment and a Certificate of Certification is awarded to confirm Successful Accomplishment.
ISO Certification has the upmost astringent detailed requirements. It is a great accomplishment to attain a Professional Certification Portfolio. The Certification Status plus the Exclusive Contract Placement Program is a sure way to be assured that you are hiring the best.
Benefits of Certification
When a business is ISO certified, it assures you that they have high standards that will meet or exceed specifications with consistent service. Not only are services compliant to the standards but quality customer care ensures that all your needs are meet. Moreover, keeping updated with the latest standards ensures that continual improvement of performance is achieved.
Optimized by: Netwizard SEO