Your Guide to Hiring the Right Commercial Cleaning Services Provider
29 July 2016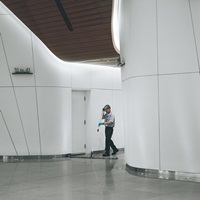 Regardless of what type of commercial establishment that you own or manage, one of your responsibilities is to ensure that it is clean and sanitary for employees, visitors and clients or customers. Through this action, you will ensure the health of your employees and help them have pride in their workplace. In addition, your establishment will make a favourable impression on visitors and clients or customers. No one has respect for commercial entities that allow their buildings to be dirty and unsanitary each day. The most efficient way to accomplish a clean and sanitary building is to hire the right commercial cleaning services provider. We offer a guide below to help you know when you find the ideal one for your needs.
1. Be certain that the provider specialises in cleaning your type of establishment. If you are a healthcare facility or educational facility for children, your needs will differ from business offices just for one example.
2. Ask for references of previous clients. Even inquire if there are any who you can consult with to discover their experiences. Often times, satisfied clients enjoy sharing information that will help others find the right cleaning services for their own needs.
3. Inquire about the level of training and certification for the company and its cleaning staff. You will learn how skilled the company truly is through asking this. On top of this, ask how long the commercial cleaning services provider has been in business since this shows its level of experience.
4. Research the provider on the Internet to learn if there are complaints or favourable reviews about it.
5. Does the provider offer a wide assortment of services? You may require additional services beyond just standard interior cleaning, such as exterior window cleaning, steam or dry cleaning of carpeting, graffiti removal, care of hard flooring, hygiene washroom services, post-construction cleaning and more.
6. You also may ask if the provider offers a free quote specific to your commercial establishment's needs. A quote such as this allows you to work the cost of the professional cleaning services into your present operating budget.
7. The other feature to seek for in a cleaning provider is a 100-percent guarantee of satisfaction. A company that is not willing to back their work with this type of guarantee is probably hiding the fact that it delivers less than favourable results.
After reading this guide and about our company, you will quickly realise that Ausbright Facilities Management is the right commercial cleaning services provider for your needs. Contact us today for further details.
Optimized by: Netwizard SEO